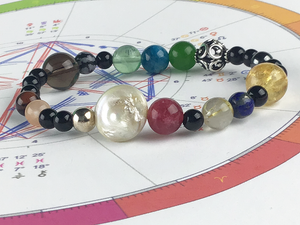 Birth Chart Analysis with Bracelet - Yin Version
Regular price
Sale price
$530.00
---
🇺🇸This is a Cardinal Method Analysis of your Birth Chart, that comes with a crystal bracelet that mirrors the exact image of the sky in the moment you were born.
The Cardinal Method Birth Chart Analysis is very precise and brings life-changing awareness of your soul and your Sacred Path.
This is a very different way of looking at your birth chart, adding powerful crystal energy to the information you get from traditional astrology.
The focus of this work is on elevating your mind to a spiritual mindset of abundance and connecting your soul to your life purposes and to the joy of life. 

The bracelet that mirrors the sky and the planetary positions when you were born connects you to the highest vibrational frequencies of your birth chart, and it acts like a consciousness reminder to re-connect you to your Higher Self.
Exclusively customized for you with your own birth chart information
Specific Birth Stone to express your unique energy
Each planet is represented by a beautiful natural stone
Includes a 45 min Audio with your Birth Chart Analysis
Available in English and Portuguese
To create your unique Birth Chart Bracelet, we need you to fill out the fields above with your exact information.
Handmade with Love.
Natural crystals are very particular, so the stones in your Bracelet will always be unique. They may differ from the images in our website, and they will always be perfect for you.
If you want to learn more about this unique soul healing tool, check out our Blog post Birth Chart Bracelet
  🇧🇷 Esta é uma Análise do Método Cardinal sobre o seu Mapa de Nascimento, que vem com uma pulseira de cristais naturais reproduzindo a imagem exata do céu no momento em que você nasceu.

A Análise do Mapa de Nascimento do Método Cardinal é muito precisa e traz uma nova consciência transformadora para sua alma e seu Caminho Sagrado.

Esta é uma maneira muito diferente de olhar para o seu mapa natal, adicionando uma poderosa energia de cristais às informações que você obtém pela astrologia tradicional.

O foco deste trabalho é elevar sua mente a uma forma de pensar espiritual de abundância e conectar sua alma aos propósitos de sua vida e à alegria de viver.

A pulseira que espelha o céu e as posições planetárias quando você nasceu conecta você às frequências vibracionais mais altas de seu mapa natal e atua como um lembrete de consciência para te reconectar ao seu Eu Superior.

Personalizado exclusivamente para você com suas próprias informações de mapa de nascimento.
Personalizado exclusivamente para você com suas próprias informações de mapa de nascimento
Pedra de Nascimento exclusiva expressando sua energia única
Cada planeta é representado por uma pedra natural específica para você
Inclui um áudio de 45 minutos com sua análise de gráfico de nascimento
Disponível em inglês e português
Para criar sua pulseira exclusiva com gráfico de nascimento, precisamos que você preencha os campos acima com suas informações exatas.
Feito a mão com amor.

Cristais naturais são muito particulares, e por isso sua peça será sempre única. As pedras do seu Bracelete podem apresentar pequenas diferenças em relação à imagem da foto, e serão perfeitas para você.

Se você quiser saber mais sobre essa ferramenta exclusiva de cura da alma, consulte o Blog Post Pulseira do Mapa Natal.